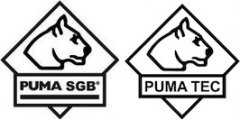 Puma Tec knives are economically attractive, fixed blade and folding knives in a modern look, produced in Asia by partner-manufacturers selected by Puma Germany.
Puma SGB knives are made from Steel blades that are made in Solingen, Germany and are assembled into knives in China.
Prices of Puma SGB and Puma Tec knives are substantially lower than Puma knives that are wholly made in Germany in order to provide a lower entry price point into the Puma brand name.
Items:
1
–
17
of
17
, per page